The Most Confusing Fitness Terms Explained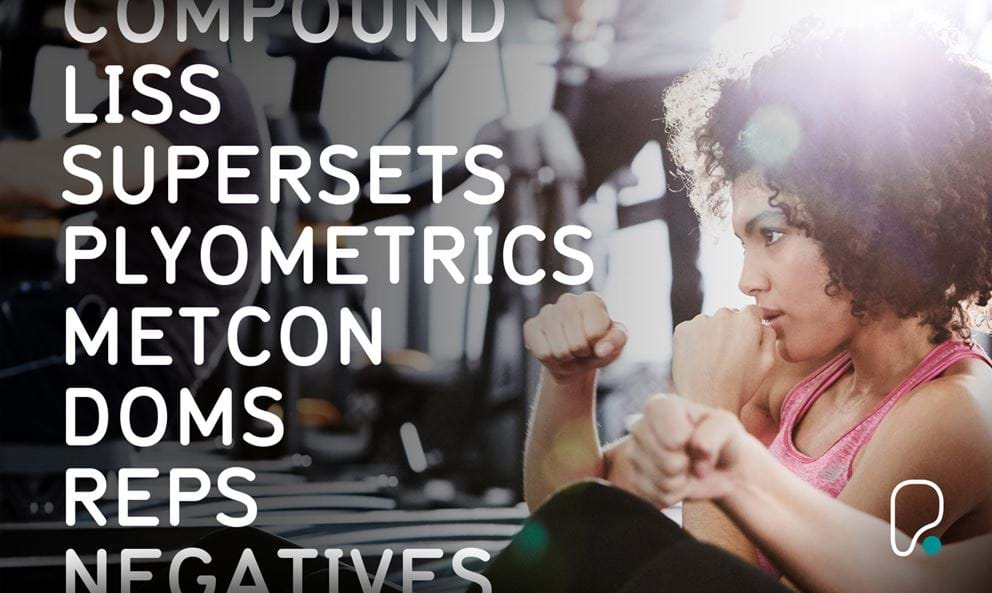 Last updated: 14th February 2022
If you currently go to the gym or are just starting out on your fitness journey, you'll very likely be coming across new terms and phrases that you might never have heard of before. Are you doing a HIIT or LISS workout session? Maybe some plyometrics? Some supersets? Negatives? Or compound exercises? Are you feeling DOMS?
If you're wondering what any of these actually mean, don't worry because you're definitely not alone -  since last year, there's been a 21% increase in searches for what different fitness terms mean!
We know that hearing these terms thrown around can be confusing and overwhelming when embarking on your first few workouts. Once you know though, none of this gym lingo is as complex as it might sound!
To help explain some of the most common terms you'll come across, we've taken a list of over 150 fitness terms, and analysed which ones people are most frequently searching for the definitions of . Find out what each means below!
Jump straight to the definitions.
The top 25 most searched for fitness terms
| | | |
| --- | --- | --- |
| Rank  | Term  | Average monthly global Google searches (past 12 months)  |
| 1.  | BMI  | 96,700  |
| 2.  | Squat  | 78,900  |
| 3.  | DOMS  | 58,000  |
| 4.  | Unilateral  | 56,100  |
| 5.  | Reps  | 55,900  |
| 6.  | Macros  | 44,800  |
| 7.  | Probiotics  | 43,300  |
| 8.  | Posterior  | 39,700  |
| 9.  | Hypertrophy  | 32,900  |
| 10.  | PT  | 31,980  |
| 11. | RPE | 30,090 |
| 12. | Proximal | 27,000 |
| 13. | Cardio | 25,700 |
| 14. | HIIT | 23,900 |
| 15. | Distal | 23,400 |
| 16. | Catabolic | 23,000 |
| 17. | Calisthenics | 21,480 |
| 18. | AMRAP | 16,750 |
| 19. | Cutting | 15,900 |
| 20. | Concentric contraction | 15,100 |
| 21. | Spinning | 14,800 |
| 22. | Superset | 14,720 |
| 23. | Body Composition | 12,280 |
| 24. | PB | 11,800 |
| 25. | Isometric | 11,800 |
WHAT DOES BMI STAND FOR?
BMI is a widely discussed term in the fitness world, and simply stands for 'Body Mass Index'. It is a measure calculated using your height and weight, to provide guidance on whether your weight is 'healthy'. There are, however, pros and cons to using this measurement – learn more here.
WHAT IS A SQUAT?
The 'squat' or 'squatting' is an extremely popular movement that makes up one of the three key lifts in powerlifting, and can bring great benefits for your lower body. Performed with bodyweight, a barbell or even using weights like kettlebells, learn more about  squatting here.
WHAT DOES DOMS STAND FOR?
This stands for delayed onset muscle soreness. This is the sore feeling that appears between 24-48hrs after a workout. In simple terms it is essentially inflammation of muscle tissue and the connective tissue surrounding it. You'll usually get DOMS if you do something new or do more of something than you have done before. A common misconception is that you need to be sore post workout to be improving, but it's not entirely true. Research has actually shown no link between being sore and having a greater increase in the size or strength of a muscle.
WHAT DOES UNILATERAL MEAN?
Simply put, unilateral exercises mean exercises that use single-leg or single-arm movements, with the main benefit being that you are using both sides of your body equally (by swapping the movement to either side between sets).
WHAT ARE REPS? 
Short for repetitions! This word is usually used for a weighted exercise where you perform a certain number of repetitions, say 12 reps for example, to complete one set.
WHAT ARE MACROS?
Short for macronutrients, you'll come across this term a lot when it comes to the nutrition side of any fitness plan. These are used as a way of ensuring you're consuming enough of the three main nutrient categories: protein, carbohydrates and fats.
WHAT ARE PROBIOTICS?
Another term tied with nutrition, probiotics can be helpful with overall performance, by helping to ensure that the gut is in an optimal state, with reduced inflammation.
WHAT DOES POSTERIOR MEAN?
Posterior, often referenced in the fitness world as your 'Posterior chain' means the muscles that run along the backside of your body, from your neck down to your ankles. The focus is often on exercises that target your glutes, hamstrings and lower back.
WHAT DOES HYPERTROPHY MEAN?
Hypertrophy means the increase and growth of muscle cells and is often referenced by the likes of PTs when discussing hypertrophy training plans, which focus more on moderate weight and moderate repetitions to build muscle, rather than higher weight and lower repetition strength training.
WHAT DOES PT STAND FOR?
This simply stands for a Personal Trainer. Someone who will work with you to help you meet your specific goals. If you're interested in working with a PT, head here to find a personal trainer in your area.
Other commonly used gym terms
Outside of the top 25 most searched for terms, we have also compiled some other terms that can often stump gym-goers, with definitions of each below.
WHAT DOES HIIT STAND FOR?
Short for high intensity interval training: a method of training that is essentially periods of maximal efforts with rest in-between - guaranteed to get your heart pumping. For example; 30 seconds sprint, 30 seconds rest on the treadmill, repeated for a number of times.
WHAT DOES LISS STAND FOR?
Short for low intensity steady state, so basically the opposite to HIIT. LISS is a method of training which is sub-maximal, slow and contains no rest. An example would be a 40-minute run on the treadmill. There is debate as to whether HIIT or LISS is best for fat loss, but it's best to do what you enjoy the most!
WHAT DOES PLYOMETRICS MEAN?
A type of training usually done by athletes to help them jump higher or sprint faster. This training method usually consists of jumping and bounding where your time in contact with the floor is minimal.
WHAT DOES PB (OR PR) MEAN?
PB stands for Personal Best, while others might prefer to use Personal Record (PR). Whatever it is, we make sure our gyms are fully equipped so you can smash them, and set records for yourself!
WHAT ARE SUPERSETS? 
This is simply doing one weighted exercise into another with no rest in between. A good example would be press ups straight into bicep curls. The two exercises usually use opposing muscle groups but can be done using the same muscle group to really induce fatigue.
WHAT ARE GIANT SETS?
This is the same as supersets but usually contains 4 or more exercises completed in a row without rest.
WHAT ARE DROP SETS? 
Performing a set number of reps on a weighted exercise (usually until failure), then without rest, dropping the weight and doing another set of around the same reps. This can be done multiple times in a row to really fatigue a muscle.
WHAT DOES SPOTTING MEAN?
When lifting heavy weights, particularly on the likes of the bench press, it can be really valuable to have a 'spotter'. This is someone who will be on hand to help lift the weight back up, if you reach failure and can't do so yourself. When trying to hit a new PB with heavy weights, there is an obvious danger attached, so we recommend enlisting a friend or PT to spot you!
WHAT DOES PUSH AND PULL MEAN?
Many gym goers break up their training plans into push and pull movements. This relates the actual movement you are performing. For example, you are pushing the bar away from you with a bench press, making it a 'push' exercise, while with dumbbell curls, you are pulling them upwards, placing it into the 'pull' category.
WHAT DO NEGATIVES MEAN?
This is doing one portion of a repetition. A negative is usually the lowering portion of a movement or where a muscle is being lengthened. This really tears muscle fibres and can be used to help build some serious size! To give it a go with some bicep curls, keep your form strict and pick a weight you can't curl up. Get a friend to help you lift it up and lower it down over 6 seconds. Try 8 reps for 4 sets.
WHAT DOES CUTTING MEAN?
Cutting is a word you'll come across a lot in fitness circles, and this simply means lowering your fat percentage. Going hand in hand with 'bulking' where people will deliberately take on more mass to grow their muscles, cutting is the opposite, with the aim of making your muscles more visually present.
WHAT DOES COMPOUND MEAN?
A compound exercise or movement is one that involves more than one muscle group. A squat for example is a compound exercise as you work the glutes, quads, hamstrings and core to name a few. A bicep curl on the other hand would be classed as an isolation exercise as it only involves one muscle - the biceps.
WHAT DOES METCON MEAN?
Short for metabolic conditioning. This is basically a fancy word for cardio. However, a metcon will usually be intense as it is designed to boost your metabolism.
WHAT DOES BCAA MEAN? 
This stands for branch chain amino acids. This is usually taken as a supplement to help increase muscle growth and is essentially the building blocks of protein.
Now you know the lingo, why not take a look at our membership options to get started at the gym, or download our app for a range of workout ideas!