How to get fit no matter your ability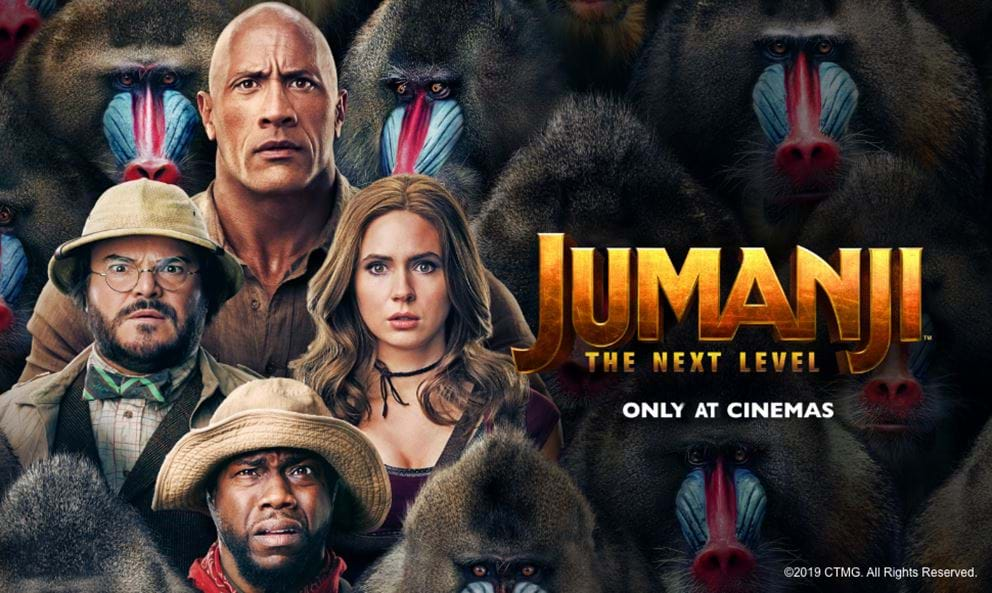 To celebrate the release of JUMANJI: THE NEXT LEVEL, only at cinemas, we've put together a guide to getting fit like the gang so you can get back in the fitness game!
You're never too unfit or too old to get healthy. Take it in your stride and use this guide to getting fit, no matter your ability. 
Have a goal
Make small changes  
Be realistic
Have a plan
Be consistent
Enjoy it
Have a goal 
Having a goal, or something to aim at, like a sporting event, will keep you focused. If you jump straight in and do everything, you'll tire yourself out. 
Don't expect to smash your goals immediately; It's okay to get off to a slow start. If you feel overwhelmed by how much you've got to do, change your goal. 
Here are a few goal setting ideas to get you started.
A 10 minute stretch every time you work out. No exceptions!
Aim for 30 minutes each gym session 
1 mile walk/run
1 minute plank
We talk about setting SMART goals in a previous post. 
Make small changes 
Getting healthy starts at home. Identify small opportunities to improve your health. 
Take the stairs instead of the lift
Walk or cycle to work 
Park further away from the door 
Do squats while you brush your teeth
Pack your gym bag the night before
Small changes might not seem like a big deal, but when they're grouped together, they have a massive impact. 
Don't set yourself up for failure by being unrealistic about your ability. Make a list of small changes you can do right now. 
Have a plan
Plan your health and fitness goals so you can track and measure your progress. Use a diary, spreadsheet or your phone and include:
your health and fitness goals
workout and exercise plans 
nutrition and meal plans 
your measurements (weight etc.)
If you don't plan, you're less likely to meet your goals. It's a good idea to track and review your progress to see where you've come from. You might not see immediate changes but logging your activities is positive reinforcement. 
Be consistent 
Consistency is key if you're serious about getting fit. Intermittent exercise or unorganised workout routines will make it difficult to track progress. And if you can't track your progress, you won't see improvements.
Make it easier to be consistent with these hacks:
Be honest about your ability (everyone was a beginner once)
Pack your gym bag the night before
Prep your meals in advance 
Set small daily and weekly goals 
Buy a calendar or diary specifically for your fitness goals
 Invest in a good pair of trainers and gym kit
Enjoy it 
Feeling a bit "meh" about your workout? Switch it up with exercises you enjoy.
If you don't like working out, it'll be hard to keep up the momentum.
Give a go at one of these fun workouts when you visit the gym.
Bear crawls  (forward and back 5 metres)
Squats 
Side shuffles (left to right 5 metres)
Broad jumps 
Mountain climbers
Beginners - Work for 20 seconds for each exercise, taking a 10 sec rest between each exercise. Take a minute rest. Repeat this 2 times.
Intermediate - Work for 30 seconds for each exercise, taking a 10 sec rest between each exercise. Take a minute rest. Repeat this 3 times.
Advanced - Work for 45 seconds for each exercise, taking a 15 sec rest between each exercise. Repeat this 4 times.
Check out our workout videos for more inspiration.
And it's always fun to work out with a friend. Try these buddy workouts or bring your friend to a fitness class.
BE IN THE CHANCE TO WIN A TRIP TO DUBAI
To celebrate the release of JUMANJI: THE NEXT LEVEL, only at cinemas, you could be in with the chance to win an amazing trip to Dubai. All you need to do is visit the gym for at least 45 minutes between 2nd and 29th December to be entered automatically into the draw.
Prize includes:
Return flights to Dubai, including transfers and travel insurance

5 nights' luxury hotel, with breakfast at an underwater restaurant

Tandem skydive, plus Desert experience, Snow experience, Rainforest experience and Ocean experience!
In Jumanji: The Next Level, the gang is back but the game has changed. As they return to Jumanji to rescue one of their own, they discover that nothing is as they expect. The players will have to brave parts unknown and unexplored, from the arid deserts to the snowy mountains, in order to escape the world's most dangerous game.