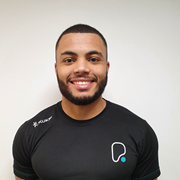 Acer Wake
Hi, I'm Acer
I want to help make a difference to people's lives by enabling them to reach their fitness goals. Whether this is to reduce body fat, increase muscle mass, increase strength, reduce stress or increase confidence I will help get you there.
"Our Limitations Force us to be Creative"
This is a saying that I live by due to the fact I have been statemented with dyslexia from a very early age. Although this is a barrier to many things I have been creative to think of ways to help me overcome this and reach my full potential. This has mainly been done by the confidence I have picked up from playing sport and being in the gym!
Due to this outlook on life, I want to make the most tailored program for you to ensure you can get to where you want to be. When working together we will build a great plan, this combined with hard work and consistency will be the key to change!
Personally, my preferred style of training is resistance training as this helps to build muscle and shape your body how you want it to look. This is beneficial for someone wanting to build muscle, as well as someone who is wanting to lose weight and keep their shape.
If you have any questions about feel free to ask as I'm always happy to chat
Specialist Areas
Muscle tone and development
Nutritional guidance
Strength and conditioning
Qualifications
Level 2 Gym Instructor
Level 3 Personal Trainer
Level 4 Nutrition Coach