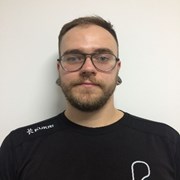 Adrian Matulewicz
I have a passion for a variety of sporting activities, including football, basketball, extreme sports, in-line skating and skateboarding. My interests have now turned to bodybuilding and fitness training.
I enjoy free weights/circuits and Crossfit. I know how to build muscle mass and how to lose body fat. It's all about changing old habits and starting a new lifestyle.
I'm here to help you reach your goals and build your dream body. If you want to change your lifestyle, reduce your body fat or gain muscle, don't be afraid, come and speak with me.
It will be an absolute pleasure to be a part of your journey.
Specialist Areas
Body fat reduction
Muscle tone and development
Sport specific training
Qualifications
L3 Personal Training
Kettlebell Trainer
Circuit Trainer
Classic Massage
Lymph fluid drainage
Sport Massage
Point and Bamboo Massage