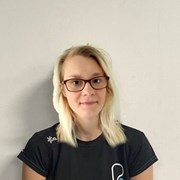 Agnieszka Ziolkowska
Hi, my name is Aga.
My own fitness journey inspired me to become a Personal Trainer and I want you to have the same experience that I have had. I want you to become more confident, to love yourself and to be sexier.
I want to show everyone how exercise can improve your mental health and alleviate anxiety and depression.
But most of all, I want to help ladies get more involved with weight training, to be more confident in the weights area and to change the shape of their body without the fear of becoming bulky or manly.
Next to fitness my other passion is food and nutrition, let me show you that a healthy diet doesn't have to be bland or boring. We will work around what you like and make a tasty varied plan that you will love.
Specialist Areas
Body confidence
Muscle tone and development
Persistent motivation
Weight loss
Qualifications
Level 2 Fitness Instructor
Level 3 Personal Trainer