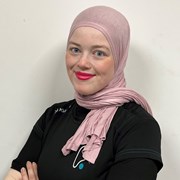 Aisha Light
I started fitness after struggling with my own health + fitness journey. I always wanted to do fitness but due to my weight after having depression and 4 children I was not able to. Eventually I had had enough and decided to take my health into my own hands to be the woman I wanted and an example for my kids.
Although it was not easy and I have struggled I have to date successfully lost + maintained over 50 kilos/nearly 10st , I never gave up and continue to be passionate about health + fitness and want to help inspire other women-especially Mums and Muslim women that we can achieve anything in life and take control of our lives and not stick to stereotypes or think that we can't because we are told we can't or because we are moms.
I have bespoke & tailored programs, advice, behavioral management & nutrition tailored to whatever your specific needs and preferences are.
 I have been there and know how hard it can be; especially when you are desperate to start, but don't know how or where...
  Also am a Mum and a practicing Muslim and know how many women struggle day to day because they can't find a trainer who understands or supports their needs. That's where I come in.
Whatever you need, we can do it together. You can achieve and see success you only imagined  you don't have to be great to start but you have to start to be great!!
Specialist Areas
Body confidence
Body fat reduction
Nutritional guidance
Strength and conditioning
Weight loss
Qualifications
Level 2 Fitness Coach
Level 3 Personal Trainer
First Aider