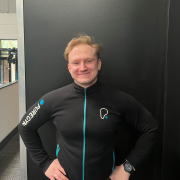 Aleksander Mec
I started my journey with sports when I was just 6 years old. Back in those days, my mum was always encouraging me that physical routines play an important role in a healthy lifestyle. I did not listen, though she was right! While she enjoyed her running, I took interest in martial arts, which I trained for 9 years in total. After that, I stopped training for a year, and I noticed drastic changes in my body.
Over those 12 months I lost a lot of weight and strength, and I was feeling anxious about my physical health. That is when I started my membership at the gym and for the first few weeks, I had no idea what I was doing. I was confused, scared and I lacked any motivation. But I needed to get there, regain that body confidence I was missing so much!
I asked for professional help. Over just 2 months of working with my PT I learned how to set my goals, improve my diet, and follow effective exercise routines. My PT influenced me significantly. The whole journey encouraged me to get more involved in helping others. I want to support individuals who are discouraged or unsure about committing to their journey.
As I tried some other sports in the past, I know how crucial it is to find something you truly enjoy doing. When it comes to our hobbies and passions, we cannot force ourselves to have them. They are our driver, motivator, power, and life. Also, I understand that not everyone is able to fully commit, due to the lack of free time. That is where I come in. I want to make a workout plan that not only fulfils all your needs and goals, but also fits with your schedule and makes you truly enjoy coming to our gym without any regrets.
Importantly, as a member of the LGBTQ+ community, I know that the gym experience can seem to be too overwhelming. Trust me- I have been there as well. In our gym we want to make sure that everyone, no matter of their sexuality, ethnicity or ability feels welcome to come to their workouts. This is also one of my principal goals, as we all deserve to feel happy and comfortable with our body. If you prefer to train with me at quieter areas of the gym or would like to suggest some alterations to our workout routines- I am here to listen to you, so you can fully enjoy your fitness journey without any fear or discomfort.
I am bilingual and I speak fluently in Polish language as well.
Specialist Areas
Body confidence
Muscle tone and development
Nutritional guidance
Persistent motivation
Strength and conditioning
Weight loss
Qualifications
Level 3 Personal Trainer
Level 2 Fitness Instructor