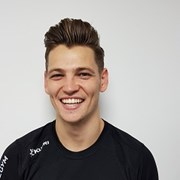 Contact
Log in to view contact details
Alex Dick-Cleland
I know what it's like to be that 'boring' person who turns down social events with friends because you're afraid you are cheating on your diet, I know what it's like to run home for your post-workout shake, I know what it's like to think you have to eat the same boring foods every day. What if I told you that you could still eat your favourite foods but lose fat? What if I told you that you don't have to run on the treadmill for 45 minutes in order to become fit?
I preach a lifestyle that is sustainable and actually educate you on flexible nutrition and how to maximise results by still enjoying your life. My mission is to have you not only looking good but performing well.
I'm looking to have a positive impact on your life through health and fitness which is why your individual goals are my main focus, be that in fat loss, injury rehab, functional training or sports performance. 
If you want to make a change to your life, get in contact and we will arrange a consultation.
For more information please visit my website www.alexfitcleland.com or find me on social media @alexfitcleland
Specialist Areas
Body fat reduction
Functional specialist
Injury prevention and rehabilitation
Nutritional guidance
Sport specific training
Strength and conditioning
Weight loss
Qualifications
REPs Level 2 Certificate in Fitness Instructing
REPs Level 3 Certificate in Personal Training
REPs Level 3 Certificate in Sports Conditioning
REPs Level 3 Certificate in Strength Conditioning
REPs Certificate in Kettlebell Instructor Training
REPs Certificate in Circuit Training
REPs Certificate in Sports Nutrition
REPs Certificate in Business & Marketing
Emergency First Aid at Work Qualification