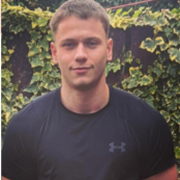 Alfie Hornby
I am someone who has suffered the same problems you are facing, drifting around unable to get from point A to B.
Being involved in the fitness/sports industry for 6years, I have done all the hard work to make it easy for you!
I can allow your dream body to become a reality in an incredible timeframe, whilst enjoying life and living a little. Life's too short right!
These next steps could be life changing for you, and it would be an absolute please to be a part of it!
Let's team up and make it happen, what are you waiting for?
I'm never too busy for a chat!
Specialist Areas
Body fat reduction
Muscle tone and development
Nutritional guidance
Weight loss
Qualifications
BSc (Hons) Sports coaching
L3 Personal Trainer
Btec Level 3 Sports & Excellence