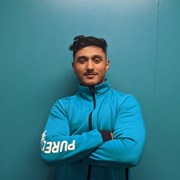 Aman Hussain
My Fitness journey began 4 years ago when i fell in love with weight training.Since then i have dedicated my life to training and studying as I am fascinated with the human body,Physical fitness and health.
Through clear goal setting and a personalized training and nutrition plan i am confident I can help you achieve your goals, Just the way i was able to achieve mine.No matter what your goal may be,wheather its gaining muscle ,fat loss or even general fitness I will be able to help you achieve the body and health you desire.
As I am an aspiring bodybuilder,I have taken on mentors that have been in the ffitness industry training clients for 10 plus years.this has allowed me to pick up many techniques which i will also be able to teach you.Contact me for a free consultation.
Specialist Areas
Muscle tone and development
Weight loss
Boxing
Qualifications
Emergency first aid at work
level 2 fitness instuctor 
level 3 personal trainer 
Optimum Nutrition level 2 nutrition course