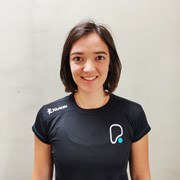 Contact
Free first session offered
Email me
Amy Lombard
A little about me
My career in health & fitness stems from an innate desire to be the healthiest version of myself so I can live the life of my choosing, without the limitation of illness or disease. This personal need coexists with a desire to share my passion, knowledge & expertise in health & fitness with those who seek to become their ideal self & live a quality of life that brings with it health, happiness & wellbeing. 
I believe that to really feel alive, you have to shift out of your comfort zone, challenge yourself & succeed in the process - this is where exercise comes into play. 
Today, this leaves me as a Personal Trainer to those who wish to enrich their quality of life. 
I empower my clients to take ownership of their health & tap into their true potential to become the best version of themselves. 
What to expect
I provide you with the knowledge & training to increase your overall fitness, build strength, improve flexibility & boost your confidence. 
We target specific focus areas like chronic pain points, posture, mobility & core stability. 
We discover what type of exercise is best for your daily routine, lifestyle & goals. 
But most importantly, we go beyond just fitness goals & work to enhance you quality of life. 
Specialist Areas
Bespoke plan
Functional specialist
Injury prevention and rehabilitation
Muscle tone and development
Nutritional guidance
Postural correction
Weight loss
Qualifications
Bachelor of Applied Science (Exercise & Sports Science)
CIMSPA Level 3 Personal Trainer 
Certificate III in Fitness (Gym Instructor) 
Certified First Aid & CPR 
Fitness Australia Registered Exercise Professional 
Behaviour Change & Wellbeing Management