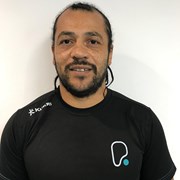 Contact
Free first online session offered
Email me
Andrew Tyne
Hi there,
I have always had a passion for health and fitness and to help people reach their goals. I have been into sports all my life and never looked back. To me, health and fitness is the way forward. My dream is to be a successful Personal Trainer and help clients become confident and able to adapt to their healthy lifestyles.
I also have a passion for Personal Training, I achieved my qualification at my local college and gained people skills which gave me a desire to work with and help people in the health and fitness profession. The experience of working with and training different types of clients has given me the ambition to want to achieve my goals and become a qualified level 4 trainer in the future.
I have worked in the fitness industry for 14 years. I specialise in boxercise and like teaching other knowledge and different techniques to increase body strength and fitness. I also have a good understanding of different types of functional training, including skipping, kettlebell and weight training and floor exercises.
I genuinely want to help people achieve their goals and be able to maintain them in the long term, it is important to give people advice that they can put into practice in their everyday lives.
You could ask yourself; why should you train with me? I would put 100% into you and your training, offering fitness programmes and fitness workouts pushing you beyond your limits, to suit your needs and help you achieve and maintain your goals.
Thanks for taking the time to read my profile.
Specialist Areas
Body fat reduction
Muscle tone and development
Nutritional guidance
Strength and conditioning
Weight loss
Boxing
Qualifications
Level 3 Advanced Resistance Training    
Level 3 Advanced Exercise Fitness Knowledge                 
Level 3 Client Lifestyle Fitness Assessment
Level 3 Nutrition and Weight Management
Level 3 Nutrition and weight Management Theory paper    
Level 3 Business & Marketing skills for fitness Professional
Level 3 Training in Different Environments