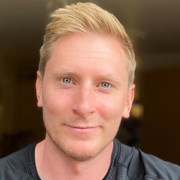 Andy Gerson
I've worked as a personal trainer in the fitness industry for over 10 years, and been exclusively running my own personal training business for the last 6. Over that time I've performed countless hours of sessions on the gym floor, so I bring a huge wealth of knowledge and experience to help you achieve your fitness goals.

Working with clients over this time I've helped many people transform their lives and fitness ability. Having trained a varying range of fitness abilities, ages and different goal sets. Lots of my current clients have trained with me for a number of years, my client retention shows that I add value to their life and time in the gym. I'm a reliable, dependable, I'll always give 100% to my client and their needs.

Hiring me as your trainer it is my job is to teach you the knowledge and experience I've gained over the past decade to better your fitness journey. From technical knowledge of exercises, I'll teach you the most effective way of training for your body and set goals. Exercise form and execution are very important to me in order to get the best out of your time in the gym and prevent injury. Everything from helping you overcome any injury or mobility issues you've had in the past or other restrictions that have stunted your training progress.
Supporting you in creating better lifestyle habits that will help you achieve your goals, teaching you that there is no one size fits all approach with you the way you eat and how we can balance this with your day to day life to achieve results.

The best client results achieved are those that are 100% committed to what they have set out to do, they have taken onboard what they have learnt from me and actually applied this to their life and training. Putting in minimal effort and expecting big results is not realistic. Like anything in life you get out what you put in, so if you have the mindset and dedication to be able to excel in this then I'd love to work with you! My passion is seeing people achieve results, bettering themselves, their lifestyle and the people around them.

You can drop me a message, call or email to discuss training further, or better still, say hello on the gym floor if you see me free and we can have a chat in person. I look forward to working with you.




Specialist Areas
Bespoke plan
Body fat reduction
Functional specialist
Injury prevention and rehabilitation
Muscle tone and development
Nutritional guidance
Postural correction
Sport specific training
Weight loss
Qualifications
• Premier Training Level 2 Certificate in Gym Instruction
• Premier Training Level 3 Diploma in Personal Training
• Premier Training Certificate in Advanced Personal Training
• Nutritional adviser