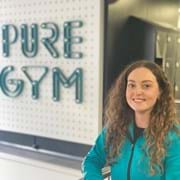 Anna Macmillan
Hi! I'm Anna Macmillan (AM Health).
There's so much misinformation out there regarding nutrition and fitness. With 5 years of university learning under my belt, I can help you sift through the fads and find a routine that works for you. I support aesthetic goals, but I'm really passionate about promoting exercise for all of its benefits: physical fitness, disease prevention, improved mental health & self-confidence, and many more!
I want you to help you reach a point where you are happy with your body, smashing your fitness goals, and have a great relationship with your diet and exercise regime. I'll help you find a balance that supports not just your physical health, but your mental and social health too. Life is for living, and fitness should make it more enjoyable, not more stressful!
I support healthy and sustainable weight loss, but also believe that weight isn't the be-all-and-end-all of health. Health is so much more than just your weight, and I want to help you meet your goals without a serving of 'diet culture'.
Come and see me in the gym to find out more about working together, or drop me a message/email any time with any questions you have. Thanks for reading!
Find me on Instagram: @annamacmillanhealth
FUN FACT
I'm from a small island in the Outer Hebrides called the Isle of Lewis!
Specialist Areas
Body confidence
Body fat reduction
Nutritional guidance
Persistent motivation
Weight loss
Qualifications
Nutritionist (MSc in Human Nutrition)
First class BSc Honours in Physiology, Sports Science and Nutrition
Level 3 PT & Level 2 Fitness Instructor
Certificate in Motivational Interviewing