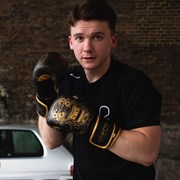 Antoan Delyanov
My name is Tony and I'm a former karate champion. Before I got there, I was a lazy, chubby, and unmotivated person that no one cared about. I've struggled with my weight, motivation, and diet, but thanks to Martial Arts I've realised that it's not that hard to be happy with yourself. Having lost 10kg of fat and built lean muscles, I want to show you how rewarding it is to feel confident in your own skin. I care about my clients and there is nothing more important to me than helping somebody go through an experience that makes them happy, confident, and strong. I know how being overweight affects your whole life, and I want to be there for those of you who want to bring about that change. I understand that life can be hectic, and it's often tough to find time to work out, I've been there myself and I've made every excuse that you can think of, however that is a thing of the past!
I've used my 10+ years of experience to design manageable, enjoyable, and proven to work programmes.

I HAVE A HOLISTIC APPROACH TO FITNESS AND LIVE BY THE 80/20 RULE MEANING THAT 80 PER CENT OF THE RESULTS COME FROM NUTRITION AND 20 PER CENT COME FROM TRAINING.

By the time of writing this I may still have very limited availability, but do not approach me if you are not serious about a lifestyle change!
Specialist Areas
Body confidence
Body fat reduction
Muscle tone and development
Nutritional guidance
Sport specific training
Strength and conditioning
Weight loss
Boxing
Qualifications
Level 3 Personal Trainer
Level 2 Fitness Instructor
Optimum Performance Coach
MMA Conditioning Specialist
Certified Nutrition Coach
First Aid at Work