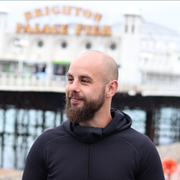 Anton Kardasis
My love for exercise began when I stopped training to look good and began training to feel good. Motivated only by the superficial meant I never left the gym feeling fulfilled, or that I was any closer to some obscure objective.

Discovering boxing was a pathway to that fulfilment. The discipline instilled me with a sense of excitement and empowerment. It provided challenge and catharsis. I left the gym every time after feeling like I'd grown and learnt a little more each time.

Whether doing boxing, HIIT or resistance training, these are the qualities I adopt when working with my clients.

Starting in London, I have been personal training for 7 years with people from all walks of life. Regardless of what you wish to achieve, I will work with you to train in a way that that promotes not only your physical, but mental development too.
Specialist Areas
Bespoke plan
Body confidence
Muscle tone and development
Nutritional guidance
Persistent motivation
Strength and conditioning
Weight loss
Boxing
Qualifications
Level 2 Gym Instructor
Level 3 Personal Trainer