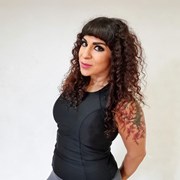 Aria Khamaneh Maraghe
My passion and mission are to transform your overall health, fitness and quality of life to contribute to your long-term physical, mental and emotional growth.
I have worked for the NHS for several years; I know what it is to have a high-pressure job and how difficult it is to manage stress, time, and commitments to reach your goals. As a person who has spent a lifetime exploring sports and fitness, I believe that I can motivate you to master the relationship between body and mind. Passion is energy, by focusing on what excites you the most, we will work towards a lasting lifestyle that thrives on the next workout.
Through a holistic approach to fitness, nutrition and health, I will coach you to believe in yourself, build confidence, and work towards independently taking control of your results.
Using my knowledge, experience and academic background, I will work with you to design sustainable, creative and fun fitness plans; considering your personality, interests and capabilities to work towards building your precise desired body shape, body confidence, fat loss, muscle gain, strength or other fitness objectives.
I can also provide you with grounded nutritional advice to build healthy habits that allow you to eat all the foods you enjoy while meeting your goals. Start working with me today to master the process and master your results!
Specialist Areas
Body confidence
Body fat reduction
Muscle tone and development
Nutritional guidance
Strength and conditioning
Qualifications
Active IQ Level 3 Personal Trainer
Active IQ Level 2 Fitness Instructor
Studio Boxing Instructor
Studio Cycling Instructor
Metabolic Resistance and Conditioning Training
HSE Emergency at Work First Aid