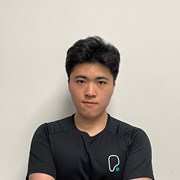 Arnold Dai
Hi I'm Arnold,
My interest in becoming a personal trainer began when I started my weight loss journey.
I lost a lot of weight in the first 6 months working out on my own. However, I plateaued, and I began to feel unsatisfied. So, I signed up with a PT who was able to provide me with the tools I needed to help achieve my weight loss goal and improved my fitness in the process.
After this, I realised that I want to help others to achieve the same.
With my experience, I understand the importance of having guidance when struggling to achieve and progress a goal.
Whether you need support in weight loss, building muscle, exercise motivation or any other fitness goal.
Contact me and we can work together to build a bespoke fitness programme tailored for YOU!
Instagram @ train_with_arnold
Specialist Areas
Muscle tone and development
Strength and conditioning
Weight loss
Qualifications
L3 Personal Trainer 
L2 Gym Instructor
Strength & Conditioning