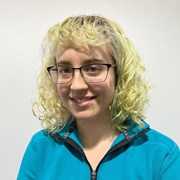 Astrid Ware
Here's a bit about me, I have been training for 6 years now, with different goals throughout my journey. I love strength training as well as achieving an athletic physique. During my second year at university was when I started taking my training seriously, through the stress of deadlines and coursework I found the gym to be a necessary outlet, it kept my mental health stable and let me focus when I was studying. Training improved my sleep, allowed me to eat more food, and I became more confident in all aspects of life.

I am a level 3 qualified PT, who specialises in transforming the way your body looks and performs, whether that be fat loss, muscle gain or strength, I would love to join you on your fitness journey!

Exercise will improve both your physical and mental health, so whatever your goal, I can tailor a specialised program and provide guidance with nutrition.

If you are someone who wants to look the best you've ever been, have a body that is strong and makes you confident, I'm sure I can help!
Specialist Areas
Bespoke plan
Body confidence
Body fat reduction
Muscle tone and development
Nutritional guidance
Persistent motivation
Special populations
Strength and conditioning
Weight loss
Qualifications
Level 3 Personal Trainer
Level 2 Gym Instructor
Level 3 GP Referral (In Progress)
Level 4 Nutrition (In Progress)