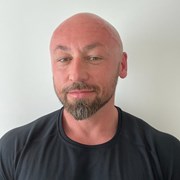 Contact
Free first session offered
Email me
Bart Leszkowski
Hello, I'm Bart
Training is my passion and inseparable part of my lifestyle for the past 20 years.
In my 7 years career as a PT, I've worked with people for all walks of life and I know that life can get pretty busy at times and it can throw you off your fitness journey very easily... but my job is to help you make it work, even when it gets hard.
My coaching is all about getting results, so I will make sure we don't waste any time and everything you do will get you closer to your fitness goal.
No more guess work.
Your goals are my goals and together we will achieve them by focusing on these 4 pillars:
    . Advance Nutrition Advise
    . Customised Training Plan
    . Life-style Improvement
    . Support 
You will get a clear plan of action with all necessary support throughout to set you up for SUCCESS!
All you need to do is show up and put some work in.
@bartfitness
Specialist Areas
Body fat reduction
Muscle tone and development
Nutritional guidance
Strength and conditioning
Weight loss
Qualifications
Level 3 Personal Trainer 
Strength and Conditioning Level 1
Advanced Nutrition Advisor 
TRX Trainer