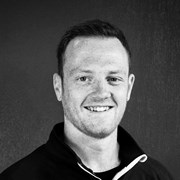 Ben Anderson
How many times have you looked at this board and told yourself you'll get the results you want on your own? 
You're putting in the hard earned hours here at the gym, but never seem to be getting anywhere and feel like you're just never going to achieve what you want. 
If this sounds like you, I can help!
Having worked in the industry for over 5 years with hundreds of clients, I know what's required to get people the results. 
I like to take a lifestyle approach to helping people, giving you the tools required to help you lose body fat, build muscle and feel more confident, without having to sacrifice time with friends and family. 
Being a husband and a father, I understand the daily struggles that come with trying to achieve results, whilst also trying to live a life, so I will teach you the methods that will give you both. 
We won't just focus o the 1 hour we spend together I the gym, we'll also focus on the other 23 hours in the day to help you create the healthy habits needed to achieve the result you want. 
If this sounds like what you need, get in touch to book in your free consultation and taster session, simple drop me an email and we'll get to work!
Specialist Areas
Body fat reduction
Injury prevention and rehabilitation
Muscle tone and development
Nutritional guidance
Strength and conditioning
Qualifications
Level 3 Personal Trainer 
Resistance Training Specialist 
BSc in Sport Science & Nutrition