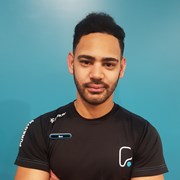 Contact
Free first session offered
Email me
Ben Linnett
Are you are looking for a professional personal trainer who cares about your physical & mental health? Great! I am the personal trainer for you. I make it my priority to help my clients achieve their goals by going above and beyond. As a qualified Physical Education Teacher with a degree in Physical Education and Nutrition, I will not only train you during our time together, but I will also educate you on health, fitness and nutrition.
I have had a passion for health and fitness for as long as I can remember. I am fortunate to have represented England in Athletics tournaments and winning many medals such as gold in the 2011 London Youth Games. However, after sustaining a knee injury I was unable to continue competing which affected by physical and mental health.
That's when I started attending the gym. I was able to regain my confidence in the gym environment and quickly realised that I have a passion for health and fitness. I went on to work as a fitness instructor in my local gym and health advisor for Charlton Athletic Community Trust for three years whilst studying at university. My time as a fitness instructor was crucial for my development as it allowed me to work with various clients and together we always achieved their goals.
Working as a health advisor at Charlton Athletic Community Trust was also crucial as I developed a further understanding on medical conditions. I worked on; blood pressure, diabetes, joint pain, obesity prevention and stop smoking programmes, throughout my time at the Trust. My experience has provided me with the confidence to train clients who have existing medical conditions.
Thank you for taking the time to read my bio. Now that you know abit about me, I would love to hear from you. Please email or call to book your FREE session.
If you're looking to smash your new year's resolution with a personal trainer who cares about your health and fitness, please call or email me, or simply approach me on the gym floor for your first FREE personal training session.
Specialist Areas
Muscle tone and development
Sport specific training
Strength and conditioning
Weight loss
Qualifications
BA (Hons) Degree in Physical Education
Certified level 2 – Gym instructor
Certified level 3 – Personal trainer
Certified Box Fit instructor
Certified Cycling instructor
Certified Total Body Conditioning
Stop Smoking Advisor