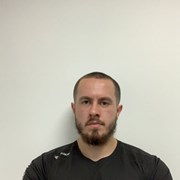 Ben Missons
Being the Assistant Gym Manager and a Personal trainer and Strength & Conditioning coach at PureGym Chatham, I'm here to help you achieve your dreams whether that be through losing body fat, Increasing muscle mass or increasing strength. I'm here to help push and motivate you to achieve your goals. I very much believe in order to achieve you must put in the hard work and that's what I'm here to do, help you put in the hard work so you can get the results you deserve!
I am a recent Strength & Conditioning graduate from the University of Lincoln, and I have also been training from an early age. Meaning, I not only have an academic knowledge of training but also first-hand experience, therefore having a large array of knowledge to help you achieve your goals 
I have also worked with a range of athletes from Footballers, Cricketers and Tennis players, not to mention the everyday individual, therefore I'm well versed in training different clients and helping them achieve their specific goals! 
So, if you're looking to lose weight or tone up, gain strength or size or even to help improve your sporting performance, get in touch!
Please reach out if there is anything i can support you with while visiting our club!
Specialist Areas
Body fat reduction
Muscle tone and development
Nutritional guidance
Postural correction
Sport specific training
Strength and conditioning
Weight loss
Qualifications
Level 2 Fitness Instructor
Level 3 Personal Trainer 
BSc (Hons) Strength and Conditioning