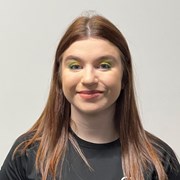 Charlie Ainley
My ethos is: no one is better than, no one is more important than. If you've been coming to the gym for years, or it's day one, you have every right to be in that space training with me.
I found my love for intuitive exercise after recovering from an eating disorder, I struggled with over-exercising, and I didn't know how to heal my relationship with the gym. My philosophy is: if you can't find the motivation to stick to your diet, or training programme, it might be because you really hate it, let's work together to create a sustainable programme that you will love! 
If you are coming to relieve stress, or to release some anger, or to let go, or find freedom, then that is what we will do. Whatever your motivation, I want you. 

I do kindness and respect, loving ourselves, and celebrating the big achievements, and the small ones too. 

I will take care of your abs, glutes, shoulders and quads, but also your heads, and always your hearts.  
Specialist Areas
Bespoke plan
Body confidence
Body fat reduction
Muscle tone and development
Nutritional guidance
Persistent motivation
Qualifications
Level 3 Personal Trainer
Level 2 Fitness Instructor