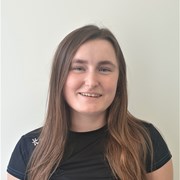 Charlotte Jupp
I'm a young PT with a new twist on training, as an ex-long distance runner I believe in the connection between the mind and body, this means your body is ready to complete any task you set yourself, however it's your mind that gives up first, I am here to stop your mind from quitting so you can reach your full potential.
With my ongoing support and motivation, I will see that you reach your goals with programs personalized for you that will make training challenging and fun.
As it is important to keep your mind calm, relaxed and in a positive place, with my unique cool down I aim to bring you down to being calm and relaxed ready to continue with the rest of your day.
Specialist Areas
Bespoke plan
Body confidence
Muscle tone and development
Weight loss
Qualifications
Level 2 Fitness Instructor
Level 3 Personal Trainer
Level 3 Pilates Instructor