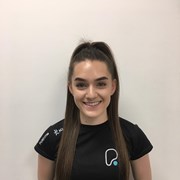 Chloe Mckeown
Health and fitness became a massive part of my lifestyle a few years ago when I was diagnosed with Type 1 Diabetes. I was underweight and struggled to gain weight. This was when I began my journey of weightlifting. I started to educate myself on training, nutrition and how the human body works. I began to see change, and my body started to grow, as well as my confidence and my passion towards fitness.
My goal is to positively impact as many people as possible. I want to help you to become the best version of yourself, both mentally and physically, and to achieve your goals like I did. You will be surprised at what you can achieve when you put your mind to it. Every effort, big or small, will set you on the right path to becoming a better you.
I am here to support, motivate and guide you every single step of the way. I offer tailored training programmes, that will meet both your needs and goals.
I provide sessions which are both challenging, but also fun.
Feel free to get in contact to book a free consultation, or for any enquiries you may have. I would love the chance to become a part of your fitness journey and to help you to achieve your goals.
Specialist Areas
Muscle tone and development
Strength and conditioning
Weight loss
Qualifications
Level 3 Personal Trainer
Level 2 Fitness Instructor
Group Exercise Instructor
Sports Nutritionist