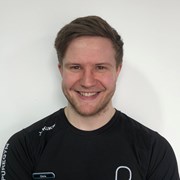 Chris West
Hi, I'm Chris!
I have always been interested in sport, playing rugby since I was 11, but my real fitness journey started around five years ago. At the end of my first year of being let loose at uni, I found myself unhappy with my body and how overweight and unfit I was. I decided that something needed to change and so began my weight loss and fitness journey! By the time I had finished uni I had lost almost 20kg and I had become well and truly obsessed with the gym and good food. 
After seeing first hand just how much working on my health and fitness had improved my life, I was determined to help others do the same and decided to become a Personal Trainer! 
My passion still lies in fat loss whether it be for aesthetic or health reasons and gaining some muscle along the way can never a bad thing! 
I like to mix it up so you could be doing squats one session and boxing the next! 
Training can be adapted for all levels, whether you're just starting your own fitness journey and would like some guidance, or if you're already a hardcore gym fanatic trying to lower your body fat level. 
I am also a massive foodie (I can talk about food for hours) and nutrition is just as important as training so advice will come as standard with any sessions and plans. 
I have had some great successes and my favourite part of this job is helping my clients to achieve life-changing results they never thought possible! 
If you're willing to put the hard work in and want to make sure that hard work pays off, then I can translate that energy into the results you want and deserve! 
So feel free to get in touch for a chat and a free consultation!
Specialist Areas
Body fat reduction
Muscle tone and development
Nutritional guidance
Boxing
Qualifications
Level 3 Personal Trainer
Level 2 Fitness Instructor 
Exercise for fat loss
Nutrition and Weight management
Behaviour change coaching
Advanced Resistance Training
Behaviour change coaching
Circuit training 
Core conditioning 
Functional equipment training