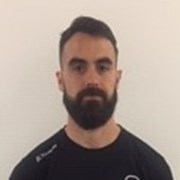 Colm Moran
Are you struggling to find a fitness plan that works FOR YOU?
Are you struggling to find CLEAR GUIDANCE on what you need to do to get to where you want?
Do you find that MOTIVATION is an issue for you?
Do you struggle to find time for exercise?
Would you like to increase your overall CONFIDENCE?
If this speaks to you, one of my courses could be the perfect solution for you!
I help to inspire other young professionals to get into the shape of your life, without doing hours of cardio. 
I will do this by helping you adopt healthy, sustainable lifestyle changes, and training methods which will better serve your goals.
My courses provide a personal experience to help you look AND feel indescribably better, which I can guarantee will change your life for the better.
Send me an enquiry today via email, or Facebook or Instagram @CMorFitness, to get started on your way to success."
Specialist Areas
Bespoke plan
Body confidence
Body fat reduction
Muscle tone and development
Nutritional guidance
Persistent motivation
Weight loss
Qualifications
REPS Level 2 Fitness Instructor
REPS Level 3 Personal Trainer
Optimum Performance Training
CIMSPA Membership