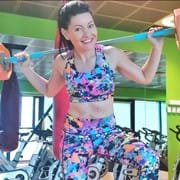 Cristina Clenciu
Ready for something different?
Do you know that feeling of frustration when you fail to show up at the gym? When you fail to lose that weight? When you fail to stick to that diet? When you fail to keep the promises you made to yourself? Again, and again? You're not alone. I've been there, too. Many, many times!
Now that I've cracked the code to what makes us stay consistent and get the results we want, I have a whole different approach than before. Working with me means that we go all in. We go deep. We expand awareness and we explore what makes you do what you do, and find enjoyable ways to change it. Getting your goals is my priority and "Have fun doing it!" is my mantra when in comes to weight loss. My focus is to keep you motivated, uplifted, determined and offer you 24/7 accountability and support, so that you can enjoy every step of the journey.
I'm with you all the way, not just when we train together at the gym. I'm on your team. I want to see you win. We're not hitting the goal and giving up after that. We're after a healthy sustainable lifestyle that you can maintain consistently long after we've hit your goal. I'm not for everyone. I'm for those who are determined to make it happen and need help. If you "kinda" want it, I'm not the right one for you. Drive comes from within you. Strategy, action plan and accountability comes from me.
Together we can get you from where you are to where you want to be.
Specialist Areas
Body confidence
Strength and conditioning
Weight loss
Qualifications
-Certified Level 2 Gym Instructor
-Certified Level 3 Personal Trainer
-Zumba Instructor
-Certified Level 2 Improving Exercise, Health and Nutrition