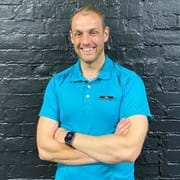 Dan Knott
Hi, my name is Dan and I'm a certified Level 3 Personal Trainer. I specialise in weight loss, body fat reduction and overall cardiovascular fitness, and I can help you to train no matter what your fitness goal; Everyone has their own Everest and I'm here to help you achieve it!
I've been on my own fitness journey, initially weighing over 20 stones and with a BMI of over 36 and a very inactive lifestyle I was classed as obese and had been for most of my life. I decided to make a total lifestyle change and now I am a regular participant in endurance events like Tough Mudder, run weekly half marathons and have even been to Base Camp on Mount Everest; I have shed over seven stone and dramatically reduced my body fat percentage, so I know what it takes to succeed and now I'm able to share that with you.
If you're looking to train for an event, race or run, lose weight for a special occasion or you just want to be a fitter, better you then I'm here to help. Using the same High Intensity Interval Training (HIIT) and Cross-Fit Training I use to train myself I can help you to become a fitter, leaner, healthier and happier version of yourself. Drawing from personal experience I will empower and motivate you to achieve your goals and beyond.
So why not take some positive action, give me a call, text or email, or you could just approach me in the gym for a chat, we can book in your free consultation and start your own fitness journey today.
You can contact me on the following:
Email: [email protected]
Tel: 07538 200 775
Specialist Areas
Body confidence
Body fat reduction
Nutritional guidance
Persistent motivation
Strength and conditioning
Weight loss
Qualifications
REPS Level 2 Certificate in Fitness Instructing (Gym Based Exercise)
REPS Level 3 Certificate in Personal Training
Emergency First Aid at Work