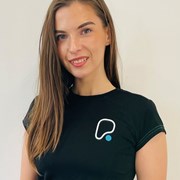 Daria Rodionova
Hello everyone! My name is Daria, and I'm a certified personal trainer. I've been in the fitness industry for 9 years. 
I love helping people find their way to their goals by using my experience with losing 37 kg to motivate them to take action. But more than that, I believe we all deserve to live in harmony with our bodies and minds, and people who feel good about themselves and are healthy.
My mission isn't just fitness; it's helping clients develop better habits that will help them lose weight and keep it off long-term. It's about teaching you how to eat right, exercise regularly, and enjoy life while doing so. You don't have to go on a hard diet or give up your favourite foods; you just need reasonable eating habits combined with consistent exercise to stay healthy and strong.
I've proven that it's possible myself: I lost more than 37 kg on my own, something which took me years of hard work and dedication before achieving! But now I want to share what worked for me with others who want the same results. 
Find me on Instagram and see more results of my clients, useful posts, and motivation @dorydionova 
Specialist Areas
Bespoke plan
Body confidence
Body fat reduction
Functional specialist
Muscle tone and development
Strength and conditioning
Weight loss
Qualifications
Personal Trainer Level 3
Gym Instructor Level 2
Antigravity Personal Trainer
Group Classes Instructor