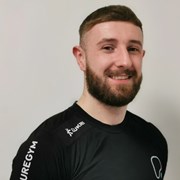 David Calvert
Hi everyone and welcome to PureGym,
First and foremost let me tell you a little about myself, my name is David Calvert and my passion for fitness started from a very young age having played football from u10s right through to the senior men's team. As well as playing football I decided to join the gym at the age of 15 as I wasn't the strongest and wanted to build not only my strength but also muscle. Over a few years I had to learn and educate myself to get to where I wanted to be especially physically. I know if I had hired someone to help I would achieved my goals a lot quicker. That's exactly why I got into the industry. I want to pass my knowledge and help those in a similar situation or those who are struggling to see any real results.
As a Personal Trainer I am here to work with those who wish to lose weight loss, build muscle or gain strength. Reaching your goals won't just happen overnight but with the right positive mindset, dedication and determination I believe we can turn those goals into a reality.
If you see me around the gym floor please do not hesitate in coming up and saying hello or to find out more about what I offer you can contact me on one of my social media pages or send me an email.
Specialist Areas
Bespoke plan
Muscle tone and development
Weight loss
Qualifications
Active IQ Level 2 Fitness Instructing
Active IQ Level 3 Personal Training
Level 3 National Extended Diploma in Sport