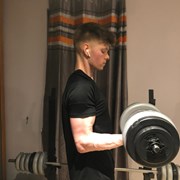 David McQueen
From a young age I have been passionate about sports and fitness which makes me the ideal PT. I also have a vast knowledge of different weight training techniques. Correct form is crucial to prevent injury which I will help you to learn. I offer fitness and nutritional goals which will be discussed during the consultation. I am here to help guide you on your journey to become healthier and happier.
After an accident at my previous work I was forced to take a long break from exercising as I was unable to walk which made me lose a lot of muscle and gain fat as I was forced to stay in a hospital bed and then a wheelchair for many weeks, as part of my physiotherapy I was recommended weight training is the only thing that could help me recover and reduce my pain by strengthen the muscles around the many broken bones I suffered, it took a lot of hard work to push through the pain and stick to a diet that would help me see results as quick as possible starting from almost nothing due to the amount of muscle and strength I lost before restarting training but I achieved my goals and feel a massive difference. I feel this experience will only help me to understand the struggles of starting from little or no history of working out at high intensity. 
My passion is to help others improve their health and fitness which can also help improve self-confidence and happiness. I would be happy to answer any questions you have via email or on the gym floor.
Specialist Areas
Body confidence
Muscle tone and development
Weight loss
Qualifications
Level 2 Gym Instructor
Level 3 Personal Trainer