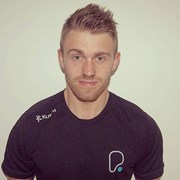 David Powney
Hey, welcome to PureGym. I am the Assistant Manager and fully qualified Personal Trainer.
Do you want to look and feel healthier and happier?
Do you want to feel more self-confident?
I can help you with all the above. Taking a personal approach; everything we do will be tailored to you and your goals. From personalised exercise plans and nutritional guidance to tough yet motivational one-to-one workouts. Together we will reach your goals and smash them!
I decided to become a Personal Trainer because I struggled with self-confidence and body image from a young age. Through exercise I found the means to build up my self-esteem and self-confidence. I have taken what I learned and want to share it with you, I understand the insecurities people face in today's image-obsessed world but if I can help you feel healthier, more confident and most importantly happy within yourself, then I have met my goal!
I work, live and breathe fitness and nutrition, I practice what I preach and constantly look to educate myself as the fitness industry evolves. I can tailor a programme to benefit your individual needs, paying close attention to your body type and what will work best to ensure you get to where you want to be.
Please don't be afraid to get in touch for a chat about my Personal Training service or to discuss how I can help you. Over my time here at PureGym I have helped loads of people achieve their goals whilst simultaneously boosting their self-confidence and happiness, so why not let me help you see your potential?
Specialist Areas
Body confidence
Body fat reduction
Muscle tone and development
Weight loss
Qualifications
Level 3 Personal Trainer
Advanced Nutrition for Fitness and Exercise
Indoor Cycling
Circuit Instruction
Out Door Training