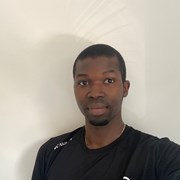 Elijah Osagie
Fitness and health has always been a passion of mine because lack of physical activity and poor diet can be detrimental to health down the line which is why I am dedicated to learning about anatomy, psychology, fitness and nutrition to build a better version of myself but also of others to reach their full potential.
With my knowledge I would like to educate you on fitness and nutrition, train you in order to achieve your goals and advice you on how to maintain this lifestyle of a positive Mind, Body and Soul.
If you want to improve your muscle tone, loose body fat, improve flexibility and more then I will create a personalised plan with nutritional advice to help you reach your goal.
If you are ready to transform yourself then contact me today for a free consultation.
Specialist Areas
Body fat reduction
Muscle tone and development
Nutritional guidance
Weight loss
Qualifications
Level 3 personal Trainer,
Level 2 Fitness Instructor