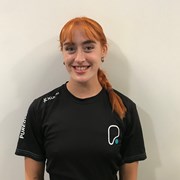 Emily Butler
Hi, hello, hey!
I'm Emily - a lover of strength training, nutrition, overall well-being of both body and mind. I'd love to transfer any of the above to become a possible love of yours. 
Lifting weights can be the most liberating of feelings and extremely therapeutic.
I once was the timid girl who was scared to enter the free weights section or try anything that would challenge me. Since discovering resistance work, more specifically Powerlifting, my confidence has grown more than I could have imagined. This is possible for you, too! 
Training in any gym can be somewhat intimidating and having said that, one thing is for certain: the weights area is very patiently waiting for more females to utilise it.
Let's get you training to become best version you can be; you owe it to yourself.
Specialist Areas
Body confidence
Nutritional guidance
Strength and conditioning
Qualifications
Level 3 Personal Trainer
Level 2 Gym Instructor 
Nutritional Advisor