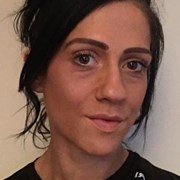 Emily Jane
Hey, I'm Emily, before I qualified as a Personal Trainer, I found my passion for fitness and the gym after I had my children.
I had lost weight and decided I wanted to become fitter but never had the confidence to actually walk into a gym, let alone have any idea what to do when I was in there.
I decided to be persistent and keep trying and coming back, getting things wrong along the way and working on things until I got them right. Before long I realised not only was I feeling better physically but emotionally too. My confidence started to return, I felt more like me again and that's when I fell in love with what I do.
I felt so much better in myself, so I decided to become a Personal Trainer because I would absolutely love to help you improve your general wellbeing too.
Together we will set and work on your goals through individually tailored sessions and any nutritional advice needed. I look forward to speaking with you.
Specialist Areas
Muscle tone and development
Nutritional guidance
Weight loss
Qualifications
Active IQ: Level 2 fitness instructing
Active IQ: Level 3 fitness instructing and Personal Training
Active IQ: Award in working with communities to promote and support active health
Active IQ: Award in instructing circuit sessions