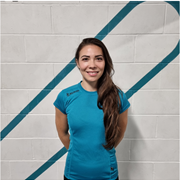 Erica Lauren
My motivation as a PT comes from the great pleasure in seeing my clients progress on their fitness journey & achieve what they set out to. 
I'm passionate about helping others realise that being physically and mentally healthy, supports a long and happy life so I only use balanced and sustainable approaches to help my clients to not only transform their bodies but also their mindset & lifestyle for the long-term. 
Whether you'd like to lose some weight, reduce body fat, build muscle or improve your overall fitness, I will guide and coach you every step of the way until your goals are met. 
My own personal goal is to positively impact the lives of every client and promote body confidence through empowerment & motivation - because we all deserve to feel comfortable & confident in our own skin.
I offer bespoke packages that include personalised training programes, diet plans and fundamental knowledge that will be key to achieving your specific goals. 
Remember - success is a journey, not a destination, so let's get going!
Get in touch with me today to arrange a consultation :)
Insta: ericalauren_pt
Specialist Areas
Bespoke plan
Muscle tone and development
Nutritional guidance
Strength and conditioning
Weight loss
Qualifications
Level 2 - Fitness Instructor

Level 3 - Personal Trainer