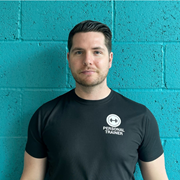 Contact
Log in to view contact details
Gary Bunker
My name is Gary and I have been a personal trainer for the past 14 years. 
Over these years I have worked with a vast amount of clients and embarked on many journeys along the way. I am lucky to be part of so many transformations and changed so many lives both physically and mentally.
I have always believed in continued professional development and always strive to upgrade my skill set,  to build more and more value into the way I deliver my personal training services. 
My current focus area is working with older populations to look, move and feel better. I believe in training for longevity with a focus on posture, bone density, muscle strength and being able to live life to the fullest. 
I believe personal training goes way beyond just exercise, this is why I set bite size goals that are easy to manage into a busy lifestyle. This will give my client strong habits that will last a lifetime. 
Specialist Areas
Functional specialist
Injury prevention and rehabilitation
Postural correction
Special populations
Strength and conditioning
Qualifications
Level 3 Diploma in Personal Training 
Level 4 Cardiac Rehabilitation 
Level 4 Neurological Exercise Rehabilitation