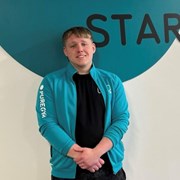 Gregor Heath
What does physical activity mean to you?
If you're struggling to find a place in the gym, feeling demotivated with your
training, or even looking for specialist services such as bodybuilding and Olympic
lifting programs, please get in touch,
I'm asking you this because I believe that working out and training can be a vessel for fantastic development in other aspects of our lives.
And as a special message to those people who weren't sporty, didn't like PE, or just never thought they would see themselves in a gym, I'll share some of my story.
At the start of my training, I was on the denser side of 24 stone, struggling with mental health problems and facing serious addictions, wasting away my life on videogames and drink. Through training, hard work and discipline I have managed to salvage myself, and move forward in my life to a place where I have come to accept myself and start to feel truly proud of who I am.
If this journey resonates with you, ask me about how I feel training played a part in that sometime, and maybe it could work for you, no matter who you are.
Specialist Areas
Bespoke plan
Body confidence
Body fat reduction
Muscle tone and development
Nutritional guidance
Persistent motivation
Strength and conditioning
Weight loss
Qualifications
Level 3 personal trainer
Level 2 strength and conditioning
Bsc(hons) Sports Science