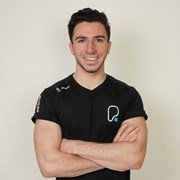 Guillaume Verrier
I am a fully certified Level 4 personal trainer, professional dancer, calisthenics athlete, and life coach. I started training in the gym when I was 16, and have been dancing since I was 4 years old.
Fitness is my passion, and I want to share that passion with you!
My specialties are posture and mind to muscle connection, calisthenics, general fat loss/toning and muscle building. I can help you with any goal you might have, no matter how big or small, I am here to help!
Are you starting to notice you're starting to gain more body fat than usual? Are you starting to realise you lack flexibility, strength, or endurance, and feel you're  not quite as energetic as you used to be? I help people in their 30s and 40s regain confidence in their body and feel more in control. Come for a consultation with me today and I'll show you how I can help.
I'm not just here to give you unsustainable results, I'm here to give you the help you need to always progress and get better! I will help you gain motivation, consistency and drive, and develop an unbreakable athlete mindset so you never fall back into bad habits, and continue building good ones!
Let's start your fitness journey together.
Come in for a consultation today to see how we can work together to achieve your goals! But hurry, I do not have a lot of slots left, first come first served.
I also sell high quality 100% customised workout programmes. Put your fitness in my hands and I'll help you unlock your body's true potential!
Specialist Areas
Body confidence
Body fat reduction
Muscle tone and development
Nutritional guidance
Persistent motivation
Postural correction
Sport specific training
Strength and conditioning
Weight loss
Qualifications
Level 4 Obesity and Diabetes Management
Level 4 Life Coaching

Level 3 Exercise Referral

Level 3 Outdoor Fitness

Level 3 Advanced Stretching

Level 3 Personal Trainer

Level 3 Sports Conditioning 

Level 2 Gym Instructor
T3 HIIT coach
First Aid at Work