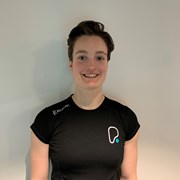 Harriet Shepherd
Do you want to move well, look good and feel your best? Hi, I'm Harriet! I'm a certified PT and I'm all about helping people get the most out of their time and effort in the gym.
I specialise in strength training. I've spent the last six years training and competing in a variety of strength sports including powerlifting, calisthenics and climbing. I've learnt from industry-leading coaches in complementary areas like mobility and nutrition and I've helped my clients reach a range of goals from getting their first push up, to overcoming injuries and breaking through stubborn lifting plateaus.
Strength training isn't just for athletes or aspiring cover models: it is also a great way to build self-confidence and everyday resilience, as well as an efficient way to change your body composition. If you're struggling to make the progress you want with your current routine or just curious and unsure where to start, I can work with you to meet your goals in a personalised and sustainable way.
Above all, I want you to be healthy, enjoy your time in the gym, smash goals and see long-lasting results that you can be proud of. So, if you have questions, goals, or you just want a form check, don't hesitate to reach out - I am looking forward to meeting you!
Specialist Areas
Functional specialist
Muscle tone and development
Strength and conditioning
Qualifications
Level 3 Personal Training
Kettlebells Training
FRC Mobility