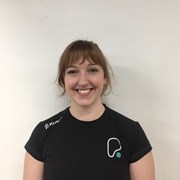 Hayley Chapman
Growing up, I was a sporty child, whether it was girls' football or karate. As a teenager, though, I found the clubs were cliquey and I slowly stopped participating. 
Suddenly, the pressures to look a certain way became overwhelming; I tried extreme diets and endless cardio, and for what? Because I was desperate to fit in, I had low self-esteem and... I didn't know any better!
This all changed the day I asked a PT to help me get stronger; I learnt how to lift weights and exercise using my own body weight.
Regular exercise and good nutrition meant my final year of university was, unbelievably, the least stressful one! My energy levels and confidence rocketed!
Now... I want to be that Personal Trainer for you!
Specialist Areas
Body confidence
Body fat reduction
Muscle tone and development
Qualifications
Level 3 Personal Training
Level 3 Exercise Referral
Level 2 Fitness Instructor