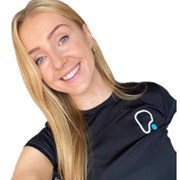 Hayley Reynolds
Asking for help is the hardest part…
Learning what is best for you is so important for hitting and maintaining your fitness goals. Remember everyone is different - no matter where you are currently, let's get to where you want to be!
I've always been involved in sports, but my fitness journey hasn't been plain sailing. I've tried all types of workouts, programs and nutrition plans and  having these past experiences, I can confidently coach you with the applied knowledge and functionality needed. My goal is to share my learnings and together, set realistic goals to reach the healthiest version of you.
It's not just about the physical, your mental health and confidence will improve and I'm passionate about bringing this out in you. So, if it's confidence in the gym, understanding your body or just needing motivation – I'm here to be committed to you.
Strong and healthy is the aim of the game so let's change your mindset and put difficult Instagram routines to bed.
If you're ready and determined, what are   you waiting for? It takes 2 weeks to create a habit, so let's get started.
Specialist Areas
Functional specialist
Muscle tone and development
Strength and conditioning
Weight loss
Qualifications
CIMSPA Level 3 Personal Training
CIMSPA Level 2 Fitness Instructor
CIMSPA Functional Movement Trainer
CIMSPA Circuit training
Level 3 First Aid