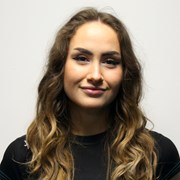 Contact
Free first session offered
Email me
Helen Hadley
TRAIN HARD, LIVE BETTER
Hey! My name is Helen, and I'm a qualified trainer, with extra qualifications specialising in women's, youth and senior health, corrective exercise, behavior change therapy as well as a trained professional dancer.
In the past, my goal was to become a professional dancer, however due to an injury that resulted in surgery, my career path was halted. Nonetheless, my interest was peaked during recovery when learning how much a difference a good trainer can make in helping you to become the best person you can be.
My training has given me a unique perspective to make the body lean, flexible and strong. I use interval training, strengthening, and nutrition to help you reach your goals.
Something I believe is no matter how much you change and train your body, the brain is also a muscle that needs to be trained; not to just adhere to the programme, but to also learn to be happy within yourself.
Specialist Areas
Body confidence
Body fat reduction
Injury prevention and rehabilitation
Nutritional guidance
Special populations
Strength and conditioning
Weight loss
Qualifications
- Level 3 Personal Trainer
- Level 2 Fitness Instructor
- Corrective Exercise Specialist 
-Level 6 Diploma in Professional Dance