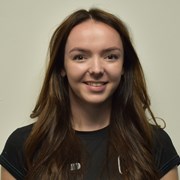 Holly Ballantyne
Hi!, I'm Holly, a Personal Trainer here at Blackburn with a great passion for health and fitness. A keen gym goer, runner and netballer myself, I want to share my passion with my clients, and ensure they achieve their goal mentally as well as physically. Confidence is a big part of entering and training in the gym, I want to help people build that confidence and self-esteem and realise their potential.
I have previously completed a degree in Sport and Exercise Therapy. This gives me an in-depth knowledge of the human anatomy and physiology meaning I can plan sessions specific to your ability, body type and goals targeting particular areas.
Whether you're looking to lose weight, tone up, build muscle or just feel happier and healthier, don't hesitate to get in touch and you will receive:
- A free consultation
- A unique, personalised exercise plan 
- Nutritional advice 
- Either 1-2-1 or 2-2-1 sessions
- Small group sessions
Don't be lazy be crazy. Try something new and find a better you.
Specialist Areas
Body fat reduction
Injury prevention and rehabilitation
Muscle tone and development
Nutritional guidance
Weight loss
Qualifications
Level 3 Personal Trainer
Level 2 Fitness Instructor
BSc Sport and Exercise Therapy
First Aid at Work