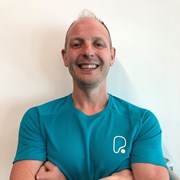 Huw Gough
I've always led an active life - playing team sports from a young age.  But, that all came to a crashing halt when I wrecked my knee playing rugby aged 36.  After I had my knee rebuilt I became fascinated with anatomy & physiology and the recovery process of learning to walk again.  This set me on a pathway into the fitness industry where I've been a Personal Trainer and Fitness Class Instructor since 2021.
Seeing  clients making progress is such an awesome feeling - whether it's doing their first proper press-up or finishing a triathlon.  I can't wait to get started at PureGym Caerphilly where I'll be offering fun & interesting PT sessions and you'll also see me at group classes.  My aim is always to get my clients sweaty & smiling!
My current sport of choice is running.  I've raced all distances including Marathon & Ultra-Marathon.  I'm very proud to have completed the Snowdonia Marathon 4 times and I'm currently working my way through the European Super Half Marathon Series.  I also cycle, and I'm dipping my toes into open water swimming (pardon the pun!).  I'm a member of Team Vegan Powered Athlete - the first worldwide vegan endurance sports team.  If you want to know more about living an active lifestyle powered by plants - just ask!
Specialist Areas
Body confidence
Body fat reduction
Functional specialist
Persistent motivation
Sport specific training
Strength and conditioning
Qualifications
Level 3 Personal Trainer
Level 2 Gym Instructor
Welsh Athletics Leadership in Running Fitness