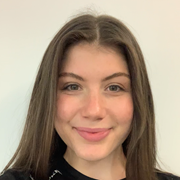 Imogen Shephard
My ethos is that exercise is for everyone no matter their starting point! We all deserve to feel happy and healthy every day and I can help you do so with a personalised approach that fits in with your lifestyle!
As a personal trainer, I strive to provide everyone I train with the confidence to go to the gym and feel proficient and ready to work out without judgement or fear. A lack of confidence should never be the barrier to you becoming the best version of yourself inside and out. I will motivate and support you every step of the way!
It is my fundamental belief that exercise can and should be enjoyable.
For years exercise was my punishment, and I know this is the case for all too many people but getting in shape should be an empowering process! The journey can be so much fun if you train in a way that is right for you, that is why I aim to create a bespoke service for each client that not only brings them a step closer to their goals with each and every workout, but that they ENJOY.
If you're ready to push yourself, have a laugh and see an incredible transformation both physically and mentally; drop me a message via email, text or on Instagram and we can set up your FREE consultation session and find a way to make fitness fit YOU.
Specialist Areas
Bespoke plan
Body confidence
Body fat reduction
Muscle tone and development
Nutritional guidance
Persistent motivation
Strength and conditioning
Weight loss
Qualifications
Level 2 Fitness Instructor
Level 3 Personal Trainer