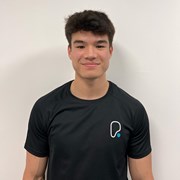 Isaac Frimston
I'm an ex-Great British gymnast who trained in the sport for 8 years, competing internationally and nationally for a few years as well. I was always very lean after doing gymnastics but since I gave up in 2016, I lost a lot of muscle mass and size and became skinny.
I found my passion in weight training and gained over 10kg in lean muscle. It was a long process because I had no trainer, but I want to be the person who wasn't there for me when I wanted to make a change to my body.
I'm currently in the best shape I have ever been in and want to help others reach their fitness goals as well as maintain a good level of health and fitness.
Feel free to approach me in the gym if you see me and contact me via mobile, email or Instagram.
Specialist Areas
Bespoke plan
Body confidence
Body fat reduction
Sport specific training
Strength and conditioning
Weight loss
Qualifications
Level 2 Gym instructor 
Level 3 Personal Training