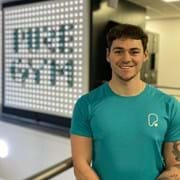 Jack Chester
Trained by JC
I started going to the gym 4 years ago to improve my performance in ice hockey and the way I looked. I started very on and off with barely a plan in place.
 Working and studying at university and trying to fit in the gym when I could. I was barely getting results.
Why? Discipline and consistency. To change my life, I had to develop better habits and become more consistent with my nutrition and training, but I did this without cutting out the things that I enjoyed.
Join my team and I will teach you the habits and knowledge to become the strongest and most confident version of yourself while still being able to enjoy your life.
Specialist Areas
Body confidence
Muscle tone and development
Strength and conditioning
Qualifications
Level 3 Certified Personal Trainer
Level 2 Certified Fitness Instructor